PT89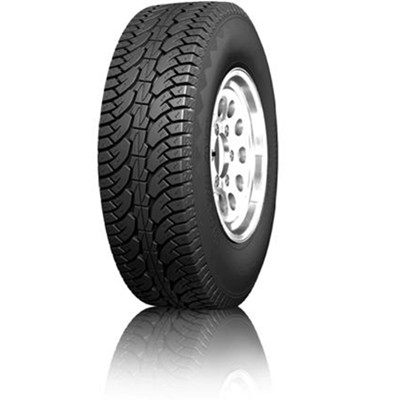 | | |
| --- | --- |
| Radial tire for pickups, vans and SUVs. Ultra traction on wet and mud terrain, excellent handling efficiency, outstanding driving comfort. Combining comfort on urban off-road conditions with performance on poor-pavement terrain. | |
■■Handling

Reinforced central rib enhances maneuverability and high-speed driving performance. Large blocks and open-ended wide grooves ensure super driving force on muddy roads. Precise steering response.

Special designed pattern, ultra traction on wet and mud terrain, ensures excellent of-road performance.

Unique all-terrain wide tread suits all kinds of road conditions and provides higher safety.

Widening lateral grooves improve drainage when running on wet surfaces.
SIZE

PR

LI

SI

Overall Diameter

Section Width

Stardard Rim

Tread Depth

Max.
Load

Max.Pressure

mm

inch

mm

inch

mm

inch(32")

S(kg)

D(kg)

kpa

LT215/75R15
6
100/97
R
703
27.7
216
8.5
6J
12
15
800
730
350
LT235/75R15
6
104/101
R
733
28.9
235
9.3
6½J
13
16
900
825
350
31X10.50R15LT
6
109
R
775
30.5
268
10.6
8½J
13
16
1030
1030
350
LT215/85R16
10
115/112
R
772
30.4
216
8.5
6J
12.5
16
1215
1120
550
LT235/85R16
10
120/116
R
806
31.7
235
9.3
6½J
13
16
1400
1250
550
LT225/75R16
10
115/112
R
744
29.3
223
8.8
6J
13
16
1215
1120
550
LT245/75R16
10
120/116
R
774
30.5
248
9.8
7J
13
16
1400
1250
550
LT265/75R16
10
123/120
R
804
31.7
267
10.5
7½J
13
16
1550
1400
550
LT265/70R16
6
110/107
R
778
30.6
272
10.7
8J
13
16
1060
975
350